Walking
In the city of Rome
Itinerary
The photo tours will start at the Roman Colosseum and will lead to the Trevi fountain.  You will walk by Rome's most exciting and scenic locations.  And you will experience this visit through the pictures of a professional vacation photographer.  Ending at the enchanting Spanish steps.
Stroll through the city
Enjoy a walk in total relaxation and visit the city of Rome at your own pace.  Taking time to stop for a Gelato ice cream or for a slice of pizza.  And continue with the photo tour whenever you wish. Walking in Rome with a professional photographer is a truly unique experience.
Off the beaten track
Take less known passages to get from place to place.  Get lost in the typical roman alleyways.  Make your photography in Rome one of a kind.  Photograph the ancient alleyways or the roman cobble stone roads and clothes lines hanging from the windows in Trastevere.  These are all unique roman experiences.
100% pedestrian
Pass through the pedestrian islands in the city center of Rome.  Walk at distance from the traffic, the noise and the roads.  Mingle in with the Italian culture.  Like in ancient times.  Reach your destinations on foot.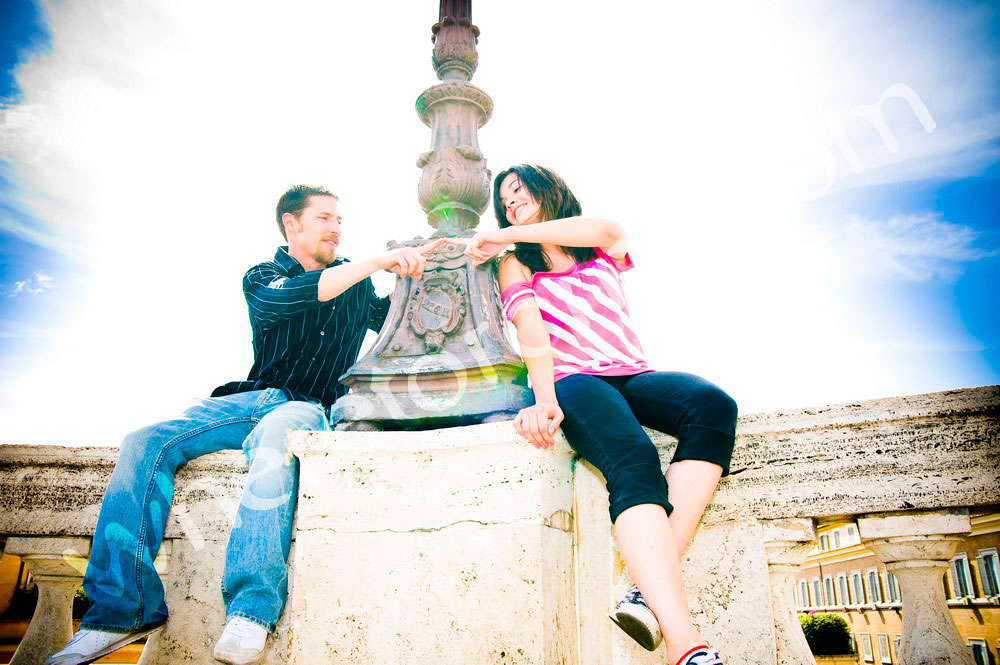 Let a professional photographer follow you through the city of Rome in an elegant and creative photo tour of the city.   A great way to experience Rome while bringing home great  photos of your stay.  Your photos will finally include everyone and not just everyone but the one behind the camera.  Each tour is a private event lead by a professional photographer with in depth knowledge of the city of Rome.  You will explore as many small alleyways and landmarks as time will allow.
Photo Tour of Rome
Walking in the city of Rome
with a professional photographer
Walking on Trinita' dei Monti
Buying local artichokes in Trastevere
Fashion district on Via Condotti
Relaxing at Park Villa Borghese
Blindfolded at Parco del Pincio
At the Vittoriano monument
Riding in car during a photo tour
Spices at the fruit & vegetable market in Piazza Campo dei Fiori
Vespa riding at the Roman Colosseum
Photo Tours in Rome
with a professional photographer
Itinerary
Hotel pickup. Piazza di Spagna. Fontana di Trevi. Piazza del Popolo. Saint Peter\'s square at the Vatican. Gianicolo water fountain. Roman Colosseum. Hotel drop off or in any other place within central Rome.  
Cover from rain or sun
The car or mini van transfer service can help you bear with scorching summer heat with full air condition.  Or it can help you cover yourself in case of rain.  So as to be able to still tour around the city.
100% Efficiency
Get through your locations fast and easy.  The most efficient way.  With a car or mini van booking you will be able to include locations which are often overlooked by most as out of walking range.  You will be able to include more locations.
Leave things in the car
You will be able to safely leave anything that you don\'t want to carry with you in the photo tour.  Bags, jackets, purses luggage.  You will also have more energy to spend visiting the city rather than using it to carry things around.