Rome Wedding Car Hire
Cars in Rome Italy
Vintage and modern

Vintage cars
We specialize in wedding car rentals providing unique and stylish vintage and classic cars.  Antiques.  In perfect mint condition.  Available in Rome Italy to help you find the right wedding transport for your special day.   All contained in one website.

Modern cars
New modern cars available for your weddings in Rome.  Available to make your special event a remarkable one.  In a luxurious way.  Italian style cars like Maserati and Ferrari as well as other Made in Italy brands.

Mint condition
Full maintenance in and out of the car.  Making the old look like the brand new.  With a stylish vintage look to remember the times that once were with an antique transportation.  The passion in hand caring for these wonderful classic and vintage cars is finally available to make your wedding day or your trip around Rome unforgettable and a truly unique experience.

Chauffeur driver
All our cars are provided with a chauffeur driver for your special wedding or event in Rome.  A local driver expert in driving that specific car.  Available to take you to your wedding in Rome.  To your photography session and to your final destination.

Comfort and efficiency
All our cars are fully licensed and are to take you within the city center through the limited traffic areas.  Take the most scenic route and less trafficked road.  For maximum comfort some of our Vintage cars have air conditioning available.

Lancia Augusta 1935
€ 700
up to 4 hrs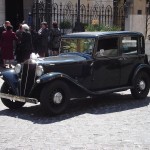 Very stylish berlina from the Italian 30s
Additional hours 100€/hr 
Beetle Rolls RoyceMost Popular
€ 750
up to 4 hrs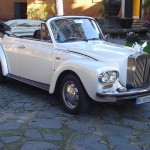 Cross between a Volkswagen Beetle and a Rolls-Royce. One of a kind
Additional hours 100€/hr 
Volkswagen Beetle
€ 650
up to 4 hrs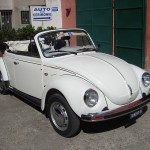 Cabriolet version to take you to your wedding with fun!
Additional hours 100€/hr 
Prices are intended for transfers within the city of Rome delineated by the GRA ring road Grande Raccordo Anulare. 
Or go with our more modern cars like the Mercedes E series.
Anyway you choose your entrance will be one of a kind.
As well as your wedding photography immortalized in a beautiful car in the city of Rome.
Mercedes E Series
€

500

Per 3 Hours

Wedding Decorated
Applicable within the city of Rome
Mercedes E Series
Most Popular
€

600

Per 4 Hours

Wedding Decorated
Applicable within the city of Rome